1. Early years
JOYCE, fine-artist painter was born of Norwegian artist mother, Susan Spiesshofer, and of Texan-American script-writer/inventor, Joseph Bacon Saunders, on the Mediterranean coast of France, in a town abounding with yellow flowered and scented mimosa trees. A year later, she was in Paris, where her half-brother, Jeffrey de Heydwolff, was born. She exhibited her first artwork under glass and frame, shortly after, at the age of 4, while her mother, who has always signed her very colourful paintings Susan, graduated with a fine art degree from the 'Beaux-Arts Academy' of Paris after 7 years of fruitful discoveries.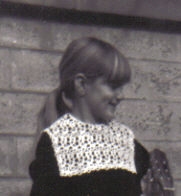 At the age of 12, one of her large black and white ink on card works gathered considerable success for a show at the junior high school which she was attending in Los Angeles, California, when living with her father, for a year. Back in the south of France, numerous arts and crafts workshops with friends staying over for the weekends and long profusely creative evenings and afternoons after school, at the drawing desk, made for a very formative artistic foundation. A large provision of time, space and arts materials were always plentifully supplied to her by her mother, who would sit at a gouache or oil painting of luscious colours and naturalistic content when her other completed tasks and self-directed duties allowed. The only rule which Joyce has been requested by Susan to keep, during these early years of development, were never to use a ruler, or an eraser. In some circles, and families, freedom is paramount, and the vibrancy of an individual's own intrinsic qualities is as precious as the colours of those on the wings of a butterfly, never to be touched.
2. London
At 17, as her mother had done when leaving her adoptive parents, her uncle and his sister, her aunt, in Norway, to travel to Paris and there, study art, Joyce began a relationship with London which was to last to this day. Having lived there for the longest part of her life, she now considers herself to be a Londoner, and is now, de facto, a British artist.
In the mid-eighties, she established her first studio in Bonnington Square (Vauxhall, South London), a squatted neighbourhood and typical urban creative hub populated by artists of all disciplines, many of whom have found recognition throughout the years, be it in the fields of music, dance, literature, acting and filmmaking, sculpture, painting and more. There, she set out to explore the wonders of black and white photography, in an abstracted manner, those of regular life-drawing sessions and sculpting with clay and metal at Morley College, Southwark, while pursuing her own painting and drawing, producing her first oil painting.
Together with a few other artists working with wood and straw, she created a life-size horse and standing human figure in wood at Yorkshire Sculpture Park. After having traveled to Africa in 1988, and stayed again in France for a year, she returned to Bonnington Square, and found a gem of a companion in Dallas, who had come to this part of the world after having worked on a film with one of Joyce' s long time 'Bonnington Squarian' friends, Ray. Dallas and Joyce were to marry within 11 days, and commence on a 5 year partnership during which numerous exhibitions of her work, in London and Paris, as well as Dallas' productions of musical nights, short films and video clips intermingled with joyous parties and a shared passion for art and culture. They continue to collaborate on creative projects to this date.
Free-lancing as a cell-painter in animation for numerous animation studios provided substantial extra funding, during a number of years (recycling post-production 'left-over' animation acrylics of outstanding quality) before a new spite of visual discoveries and creations, this time using specialist decorative techniques, digital imaging and graphic design. Her muse had become a very talented rock & roll and pop singer, as she got engaged into a late nine years' journey of study culminating in an MA in Enterprise and Management for the Creative Arts which she graduated from at the London College of Communication, University of the Arts, London in 2007.
Joyce's practice is presently based at her fine-art studio in an Edwardian building of outstanding architectural beauty which is part of the Deptford Arts Network, as well as in her digital design studio and research admin office desks at home within the arms of an ochre stone arch, in a beautiful South London converted church.
Similarly to the sculptor Edith Garcia, writing for "Creative Week" in October 2006, she believes that:
'sustaining a successful studio comes down to discipline. You have to treat everything you do as if you were working in a large organisation,'
and, although she has her own percentages and prioritises design over administrative tasks:
'that it's about 70% administrative and 30% art making (…) ensuring that (she) works regular hours'.
Artist Stella Vine talks of a similar approach to running her practice, as she explains in an interview by Karl Mansfield in the 28 November 2005 issue of "The Independent":
'If I weren't talking to you right now I' d be…
painting, going to the gym or doing office stuff – trying to keep functioning as an artist.'
Her years at the University of the Arts London, at the London College of Communication, where she gathered skills parallel to those of Art, Digital Media and Printing, as well as Enterprise for the Creative Arts, taught by the distinguished and respected Professor John Bates, at the London Business School, have extended the scope to her practice. Added to her previous experiences in Fine-Art, Illustration, Muralism, Animation, Artistic Interior Decoration and Set-Design, a more measured and pragmatic approach is now also allowing her to grow into a more professional and empowered creative. Beyond the 'Bonnington Squarian' spirited exhibiting artist of the 90's, best described by a few words from Tracy Emin, in her column for "The Independent" newspaper (summer 2006):
'… a wild child, a maverick, an enfant terrible, a strong opiniated woman, immune from judgement!...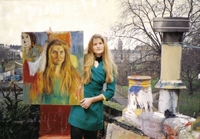 ... she has now evolved into a more "matured" individual and artist...




Joyce rides a bicycle to the bus stop or train station, to exercise and optimise safety. She loves walking, when time permits and a crucial need for sport and cultural nourishment or networking requires, in London's beautiful parks or along the South Bank to the Tate Galleries where she can visit some of the most inspiring exhibitions of modern and contemporary art, not forgetting the Saatchi, the V&A and it's fabulous National Art Library, the Institute of Contemporary Arts, and so many lesser-known but nevertheless just as outstanding venues for culture. The London International Animation Festival, which takes place every year, is usually the occasion for a much needed holiday in her "own back-yard, where her happiness lays"… is that a Billy Holiday, a Nina Simone, an Aretha Franklin wording? ...

There is just not enough time for all the marvellous cultural offerings that one of her tutors on the master's degree, whom she had the privilege to interview at Somerset House, Lord Chris Smith former minister of Culture Media and Sport, has rendered free of entry to the public, thereby facilitating the evolution of London into one of the main creative and cultural "brewing pots" and capitals of the world. Not-with-standing the fact it has also replaced New-York as the "melting-pot" of the world. Joyce loves and thrives on the diversity of the humanity that surrounds her, finding it most inspiring and fascinating, despite the occasional discomforts that this multiplicity of eclectic world-tribes within one metropolis can at times foment.

She opened a show for one of her Texan cousin's visit to London, Mark Murphy, who for the occasion was based in a good contemporary hotel in Victoria: the first part of 'The Horses Series' of oil on canvas. Consequently, what had de facto become "JOYCE's GALLERY II" re-opened in her studio, for a few potential collectors and artist friends.

Joyce regularly exhibits at Studio F2, first floor, Lewisham Arthouse, for Open Studios, that are at present occurring once or twice a year.

From 18th November to 29th November 2009 her solo exhibition in the gallery of the same art organisation featured 6 large mural sized paintings on paper on the subject of 'CARS', predominantly portrayed without drivers, and twenty or so smaller paintings on the same subject - Lewisham Arthouse Gallery, SE14 6PD, www.lewishamarthouse.org.uk London GB - The show was a success and attracted a lot of positive feedback from the local community and beyond, when visitors were thrilled to see such a subject unusually explored within the realm of art, and children delighted by the cartoonish approach to the smaller works, the engaging animations on screen, actively participated in contributing many images of cars of their own making. Collectors came from Paris to see the exhibition, staying at a very good hotel in Russel Square, enjoying great boat ride between the 2 Tate Galleries where they found lunch delightful, to arrive at Greenwich, an easy train and bus ride away from the Arthouse.

Joyce brings her work to market mainly by means of digital media for web and print, as well as word of mouth, having acted as her own gallerist and agent for the whole of her fine-art career.

As always, solely involved within the Creative Arts and Industries, working with her family, collaborators, assistants and associates, each one of her paintings or projects being born into the world as another descendant of the creativity her parents as well as American grand-mother and great-grand-mother planted within her, she may develop a commercial bias to some of her activities, but never relinquish those of the fine-artist.



Although quite aware that having left her fine-art practice "on the back-burner" from 1997 to 2007, while bringing new technology, design, administrative and enterpreneurial skills into her practice, has set her aback within the multitude of fresh entrants to the London art scene which art colleges churn out yearly, Joyce believes in perseverance, never letting go of her passion and talent, and still keeps hundreds of her past paintings, drawings and prints as one would vintage whine, on a 4 level scaffolding at home and in her storage spaces at the Lewisham Arthouse. External hard-drives, folders of DVDs, CD-Roms, USB keys and hard-disks hold many thousands more images, filmed footage and sounds in her intellectual property "vaults"… some of it gets published, at times, leaving plenty in store for later attention...




She knows her intellectual property to be her 'gold mine', and produces archival quality digital art prints of her work, while continuing to develop styles, themes and media in her usual investigative, diverse, highly inventive and innovative manner. Installation, film, fashion and photography have become main interests at the studio and beyond since 2015 or so.

Joyce has created a limited edition of 450 A5 booklets of black and white illustrations, some sold at "Daunt Books Independent Publishers" and holds a growing selection of self-published catalogues of her artworks.

She has also edited, translated, illustrated and published in 2010 and 2013, with JOYCE Publishing, the most extraordinary autobiography of her ex-husband, "N'Dongo, an autobiography by Cheikh Bamba Diop", now available from the British Library, as well as from the main academic libraries of Cambridge, Oxford, Wales, Scotland and Dublin (see CV). She found "Les Editions La Bruyere" for him who published it in Paris as well. Later, she helped him to publish the book "Toumouranke", (Trauma) in both English and French with printers based in the UK as well as via the publishers "New Generation" based in London.

She is thrilled by the Internet's potential for disseminating images of her art, but nevertheless ready to protect herself from whoever uses her copyright unauthorized by using the umbrella of the DACS, designers and artists copyright society.

She hasn't forgotten a television quote from Tracy Emin, who still remains one of Britain's biggest female star of the visual arts, reported by one of her friends, Jedhoriah, in the late 90's: an advice to artists to 'think hard in terms of marketing if they ever want to make a living from their work', and another word from her, which Joyce is actually critical of, in a chance encounter at the Frieze Art Fair 2005' s VIP ladies' room:

'If you don't make it in an established gallery by the age of 50 you will never make it' .

Incidentally, however, Joyce's mother also disputes the later's affirmation...

Paula Rego, another huge British artist, became established with her first good gallery at the age of 55, didn't she?

And how about Phyllida Barlow…

In short, Joyce's relentless experimentations and discoveries make her, following a life time of artistic experience and development a very well rounded practitioner.

Her main concern is to keep on doing the art that she feels destined to pursue for her entire life, with passion and never-ending enthusiasm XX !!!